The Industry Standard for LED Roadway Lighting
Designed to replace 50-1,000 watt HPS cobra head products, the virtually maintenance-free Autobahn Series LED streetlight uses breakthrough LEDs and precision engineered optics to provide exceptional illumination while also saving energy –typically up to 70%. Plus, it works seamlessly with the Acuity Brands outdoor controls systems to maximize energy and maintenance savings through enhanced monitoring and control functions in LED streetlight and area applications.
The Autobahn family of LED roadway lighting products is available in seven different unique models comprised of two form factors, each available in three or more sizes.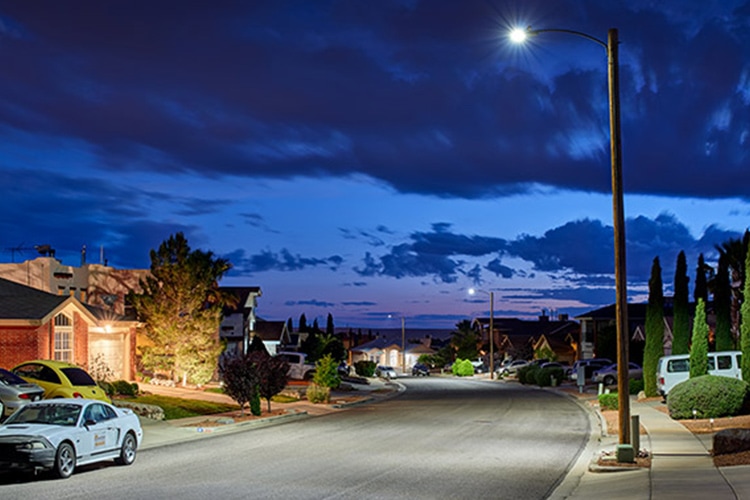 50-1,000 watt HID cobrahead replacement solution at less than half the operating cost
ANSI 20kV/10kA surge protection feature for safe reliable operation
Types 2, 3, 4, & 5 distributions to address any application
2700K-5000K CCT, 70CRI minimum provides options for comfortable white light
Network compatible for advanced controls features
High performance energy efficient solution for roadways, off-ramps, residential streets and parking lots
Over 70% more efficient than comparable HID luminaires
Long system life –20 years of virtually maintenance-free operation can be expected
Dropped neutral and dirty power protection with XVOLT option for ATB0 and ATB2
Two dayforms with weight and EPA less than comparable cobraheads
Leading-edge optics for improved visibility and DualOptix option for enhanced visual comfort
Nighttime Friendly™ design for minimized uplight and light pollution
Tool-less features for simplified installation and maintenance
Engineered to operate at 40°C ambient for flexibility in application design
Value-Added Design Features
---
Access the following product web pages for photometry, spec sheets, literature and other detailed information on each of the Autobahn products.
---