The Power of DC for Your Lighting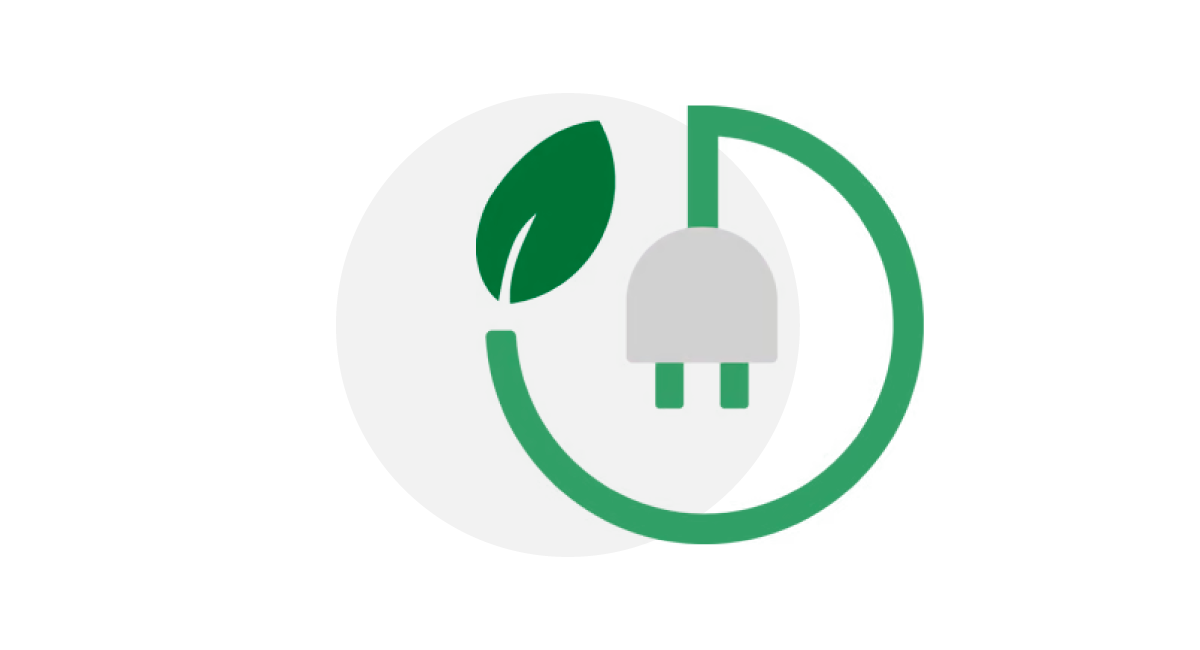 Our built environment relies on the quality of energy available to power it. Nationwide investments in grid modernization and resiliency are driving electrification, converting buildings to more carbon-friendly electric systems, and facilitating installation of renewable energy sources at the building level. With this, Direct Current (DC) power is key to easily connecting our buildings to renewable resources and energy storage batteries.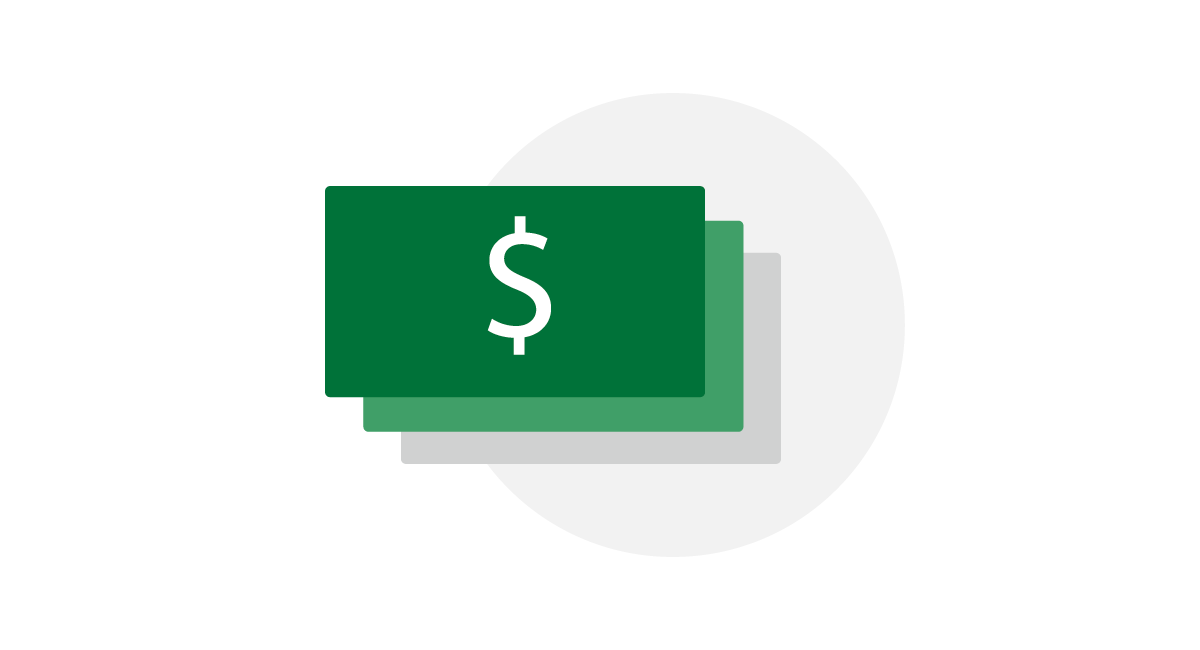 Our built environment is almost exclusively powered by Alternating Current (AC). However, from renewables and electric vehicles to mobile devices and IT networks, the use of DC power is already widespread and growing. Converting AC to DC power results in efficiency losses of up to 10%¹, and every power conversion represents not only additional material costs, but a potential failure point for the connected devices and systems. In addition, direct DC power connection to renewable energy sources combined with DC-powered building systems, has been shown in a simulation to generate an estimated 10 to 18% in energy savings² when compared to AC-powered commercial buildings. To help foster the adoption of the use of DC power in building design, the US Green Building Council introduced a LEED® credit for Direct Current Power Systems³ as well as consideration for DC-powered systems under its LEED Zero certification.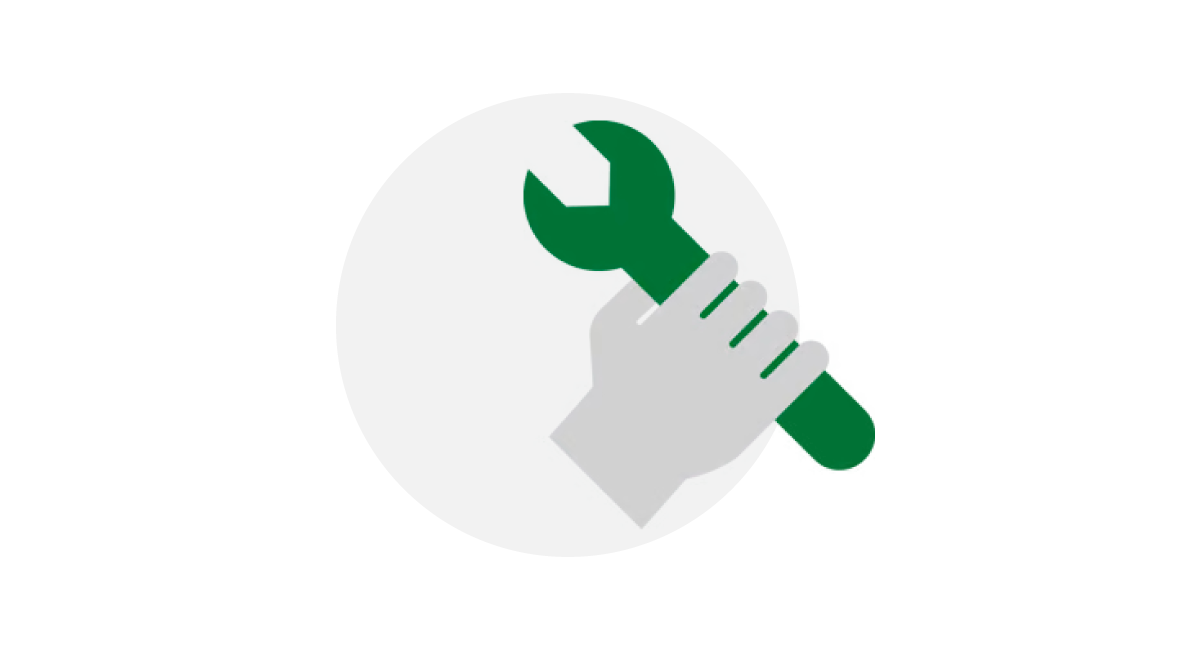 LED lighting already requires DC power to operate. Acuity Brands' DC2DC architecture provides for distributed DC power to a LED lighting system, enhancing its efficiency by eliminating the need and cost to convert AC to DC power at the luminaire, and facilitating the installation and commissioning of lighting controls. Intrinsically more efficient by design, our DC-powered lighting architecture also delivers savings at design and installation, facilitates maintenance, and empowers lighting design focused on sustainable and well-being applications.


DC2DC Architecture in Action
The DC2DC Architecture provides distributed low-voltage DC power and digital controls for a range of LED luminaires.
Components include:
DCHUB, distributing DC power and control to up to 1080 VA of DC-powered LED luminaires including support for emergency lighting.

57 VDC powered LED luminaires, with Static CCT or Tunable White options.

nLight® Wired networked lighting control, with nLight control devices and/or sensors embedded within luminaires.

Standard Class 2 power and control cables, 16 AWG.
DC2DC Architecture - Benefits for You
Build Your DC2DC Solution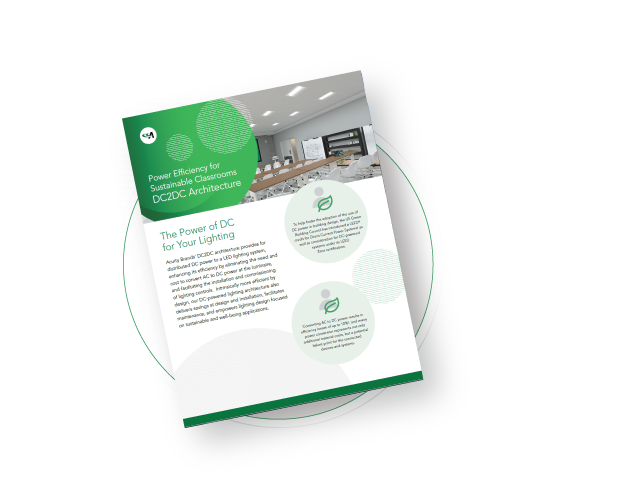 DC2DC Architecture for Classrooms
The DC2DC architecture is particularly suited for design of spaces, such as classrooms, that consider both energy efficiency and occupant comfort and well-being, and that are typically designed with multiple lighting zones.

The DC2DC architecture delivers unique value for classroom lighting design and maintenance.


Get Guide
Frequently Asked Questions
1.

What are the standards that address use of Class 2, DC power distribution in commercial buildings?

The National Electric Code®(NEC®) addresses this in section 393.6 (B). The NEC defines Class 2 as the portion of the wiring system between the load side of a listed Class II Power Supply, listed low-voltage cables and the Class 2 electrical equipment. Power, current and voltage limitations of a Class 2 circuit addresses safety from a fire initiation standpoint and provide acceptable protection against electric shock.

2.

How does the DC2DC architecture impact overall building construction and permitting, and inspection?

The DC2DC architecture streamlines this process because:

Electrical inspection can take place after completed rough-in wiring to the DCHUB rather than after all high voltage fixtures are installed. This means that the ceiling can be closed up after fixtures are installed, avoiding inspection-related delays.
Only the line voltage drawings may be required to pull a permit and the drawings need not show the lighting fixtures at the time of permitting. Tenant improvements may then not necessarily require stamped drawings and in that case can be altered without the need to reenter the permitting process.
Line voltage electricians do not need to be on-site once power is connected to the DCHUB, and low voltage electricians can complete the lighting installation.

3.

How do electrical drawings reflect the DC2DC architecture?

Electrical drawings show the DCHUB (instead of power packs), and document Class 2 cabling in relationship to luminaires.

4.

What makes the DC2DC architecture unique compared to other DC-powered lighting systems?

The DC2DC architecture offers unique features including:

Multiple luminaires, on the same power and control run, can be independently controlled.
Luminaires can be individually controlled or grouped in zones, with up to 16 independent control channels for luminaires with Static CCT or up to 8 channels for luminaires with Tunable White.
Ability to leverage nLight® Wired networked lighting controls, connecting luminaires, sensors, and other control devices to create a distributed digital network.
The architecture uses standard Class 2 cabling, which can be field cut from a spool.
3-port levered wire connectors in the luminaires allow for easy daisy chaining of loads
Luminaires can be installed in inaccessible ceilings, as all electrical connections are accessible from below.
The DCHUB takes only 6 inches of plenum depth and can be grid mounted horizontally.

5.

Is Acuity Brands' DC2DC architecture only compatible with Acuity Brands luminaires?

No. Any luminaire utilizing a 57 VDC eldoLED® driver, is compatible with Acuity Brands' DC2DC architecture.

6.

How is the DC2DC architecture DCHUB different from the Modulus™ Head Unit?

For comparison:

The Modulus unit is a Class 1 DC supply (Over 100 VA) and requires conduit between the head end and the luminaire. With the DC2DC architecture, wiring between the DCHUB and the luminaires is Class 2 and does not require conduit.
A Modulus head end is an accessory to a single luminaire. A DC2DC DCHUB is ordered independently from the luminaires and can serve multiple luminaires of different types.
Modulus has only a single output, and is limited to 320 VA. A DC2DC DCHUB can have up to 12 outputs and manages up to 1080 VA with runs in a star topology.
Modulus is available with a single feed only, the DC2DC DCHUB can accept both an emergency and normal feed.

7.

How is the DC2DC architecture different from PoE lighting systems?

For comparison:

PoE systems that use racks in IT closets may not be built during the construction phase of the project when temporary lighting is needed. The DC2DC DCHUB and compatible luminaires are available for rough in and temporary lighting needs.
For information security reasons, IT racks providing PoE power may not be easily accessible by the electrical contractor for providing lighting power and commissioning.
PoE systems typically use Category 5/6/7 cable and RJ45 connectors with a home run per device (luminaire or control). The DC2DC architecture uses Class 2 cable, 16 AWG conductors with levered wire connectors in the luminaire and allows daisy chaining of luminaire up to the full power limit of a DCHUB port.
At a single end device, PoE type 1 provides 12.95W, type 2 provides 25.5W, Type 3 provides 51W and Type 4 71.3W. https://en.wikipedia.org/wiki/Power_over_Ethernet . A DC2DC DCHUB provides up to 90 VA to either a single or multiple end devices.
PoE systems require IT infrastructure for control of lighting. The DC2DC architecture employs distributed control for real time control needs and does not require IT infrastructure for lighting control. This allows the installation of the DC-powered lighting systems to obtain a certificate of occupancy before the IT infrastructure is installed and ready.
PoE systems allow (at a cost) a high-speed data connection to the luminaire, which is far more than what is required for normal lighting needs. The DC2DC architecture provides a right-sized data connection for lighting control.
Some PoE systems require external control wiring from sensors and switches to terminate in the luminaire driver compartment, making controls installation time consuming. The DC2DC architecture uses embedded sensors that are factory-wired to the driver, or separate sensors on the local control network connecting directly to the DCHUB.
PoE systems are often challenging to implement in terms of emergency lighting. The DCHUB with ETS20 DR option, enables support of emergency lighting.
PoE systems energy losses through cabling are high, lowering the efficiency of the installation. The DC2DC architecture cabling losses are less than half those of the PoE cabling, arising from the better conductivity of single pair 16 AWG as compared to multiple pair 24 AWG.

8.

What is the wattage limitation of a single DCHUB?

The DCHUB, based on the version ordered, contains at least 2 and up to 12, 90VA, 57VDC power and control outputs that can feed up to 1080VA of DC-powered LED luminaires.

9.

When are DC-powered lighting systems effective for renovation?

If the building is being taken down to structure, then the DC2DC architecture provides the same benefits in renovation as new construction. If the renovation allows the reuse of existing AC wiring infrastructure, then it is usually more cost effective to complete the renovation with traditional AC infrastructure.

10.

Why does the DC2DC architecture utilize 57 VDC rather than 24 VDC?

57 VDC was selected because:

It falls below the maximum of 60 VDC allowed in NEC Class 2 installations with a 5% safety margin. This is the same maximum voltage maximum utilized by PoE systems.
Efficiency lost in conductors is related to the square of the current flowing through them. 57 VDC loss in 100' run at 90 VA is under 2 Watts, 24 VDC is 11 Watts under the same conditions.
Drivers utilized in the DC2DC architecture are compatible with the widest array of Class 2 LED modules, without having to boost the voltage within the luminaires. They are also more cost effective and efficient because the drivers operate only in buck mode.

11.

When designing a DC-microgrid, which DCHUB models are available for 250 VDC operation?

Currently the surface-mounted, non-recessed DCHUB is available with 250 VDC input.

12.

Are nLight® Air enabled luminaires compatible with the DC2DC architecture?

No, the luminaires compatible with the DC2DC architecture are individually controlled without the need for radios. The DC2DC architecture is compatible with nLight® Wired networked lighting control, with nLight control devices and/or sensors embedded within luminaires. Luminaires and embedded sensors communicate to the nLight control system over the luminaire power and control wiring.

13.

Is it possible to combine normal and emergency lighting requirements within a single DC2DC DCHUB?

Yes, the DCHUB integrates Normal and Emergency wiring requirements for integration with building power systems. Note that based on local code requirements, conduit may be required between the DCHUB and the emergency or critical power lighting fixtures.

14.

In new construction of a school, where the DC2DC architecture is only being considered for a classroom, how would I address lighting requirements in other spaces?

We recommend a hybrid approach involving a DC2DC architecture for classrooms, and high voltage AC-powered nLight® or nLight AIR enabled luminaires in areas such as outdoor, gymnasiums, auditoriums, cafeterias and hallways, for the most cost-effective implementation. The DC2DC architecture can be used within a hybrid implementation of DC and AC powered lighting systems within one building. It is part of a unified platform through nLight networked controls, enabling building-wide control and lighting strategies.
1 Pacific Northwest National Laboratory. Arnold, Gabe & Pennell, Grace. 2020. DC Lighting and Building Microgrids, Opportunities and Recommendations. (pnnl.gov)

2 Gerber, Daniel & Vossos, Vagelis & Feng, Wei & Marnay, Chris & Nordman, Bruce & Brown, Richard. (2017). A simulation based efficiency comparison of AC and DC power distribution networks in commercial buildings. Applied Energy. 10.1016/j.apenergy.2017.05.179.

3 New LEED pilot credit encourages energy savings with DC power systems | U.S. Green Building Council (usgbc.org)

4 Davis, Lynn, Kelly Rountree. 2019. Accelerated Stress Testing Results on Single-Channel and Multichannel Drivers: Final Report. US Department of Energy 2018.