Lithonia Lighting® has redefined the commercial indoor space by reimagining the traditional luminaire and creating a 6" wide linear LED lay-in light that meets modern design trends, is easier to install and is environmentally responsible. Introducing ... Lithonia® SIX
Lithonia® SIX was designed to meet modern trends and allow for versatile installation orientations.
3 Sizes – 2ft, 4ft, 8ft; Bezel and Flat Frames; Black, White, and Natural Aluminum Finishes
A Linear Lay-in from Lithonia Lighting®
Ideal for Spec and Project opportunities
Embedded Controls with nLight®, nLight® AIR and SensorSwitch JOT™
Embedded Emergency Options
Multiple Frame Options – Flat and Regressed
A Switchable Linear Lay-in from Lithonia Lighting®
Perfect for Stock Projects
Features Adjustable Lumen and Switchable Color Technology

Lumen Options
- 2ft: 1500LM/2000LM/2500LM
- 4ft: 3000LM/4000LM/5000LM
- 8ft: 6000LM/8000LM/10000LM
CCT
- 35K/40K/50K

Embedded Controls with nLight® AIR
A Dynamic Linear Lay-In from Lithonia Lighting®
Ideal for Spec opportunities
Features nTune™ Color Temperature Settings

Productivity Range of 3000K-5000K
Rhythm Range of 2700K - 6500K

Embedded Controls with nLight®
| | |
| --- | --- |
| | What is nTune™ - an all digital light color temperature control within an nLight® enabled luminaire. This brings tunable white lighting control into the mainstream with repeatable, consistent results in an economical luminaire form and system already familiar to schools. Designers and facility operators are granted the freedom to tie scenes to specific activities or to complement colors or materials within a visual environment. |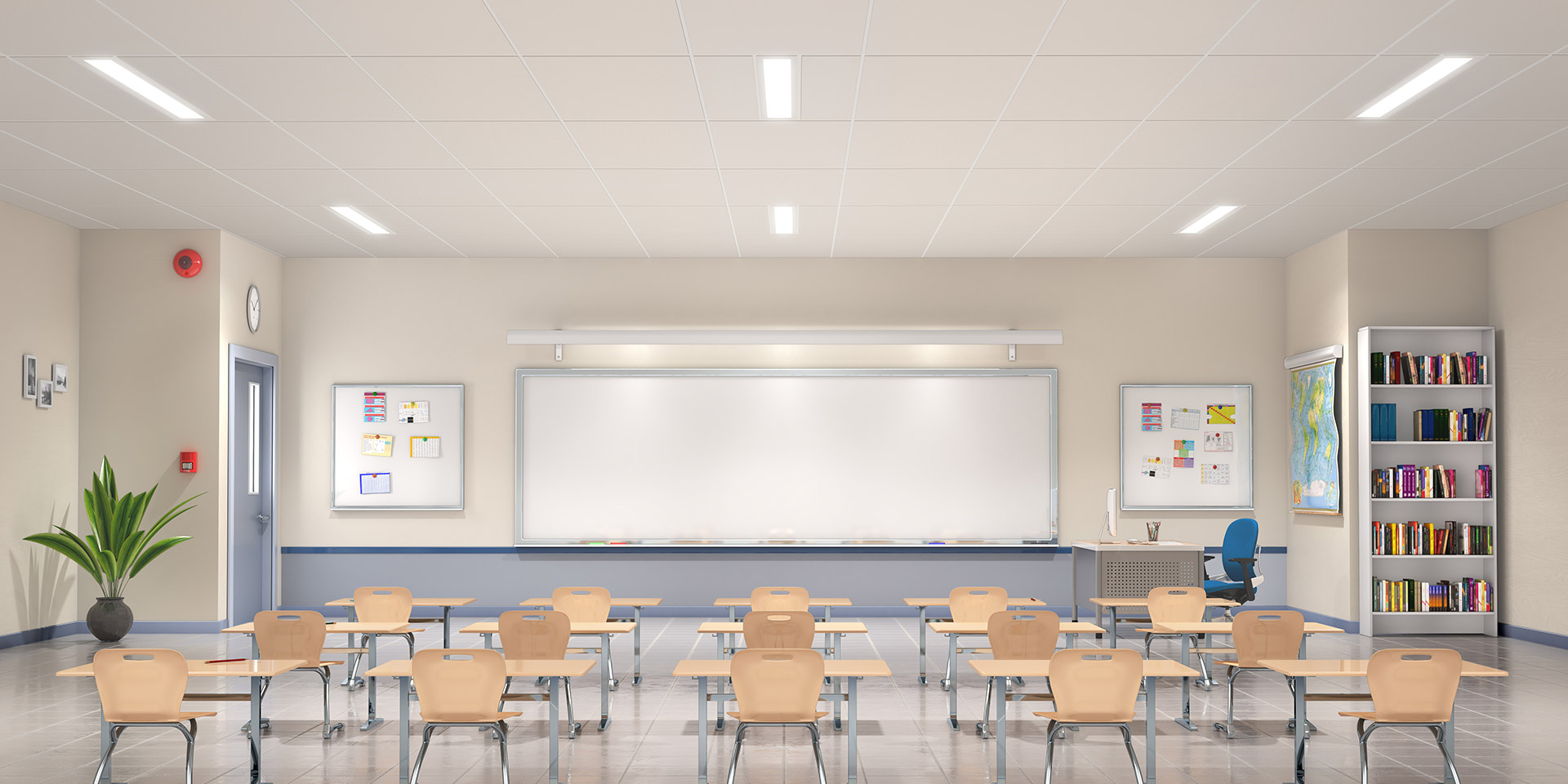 LSIX

Lithonia® SIX was specifically designed to tackle today's unique challenges with environmentally conscious solutions.
The vast majority of commercial buildings have been designed with cumbersome lay-in lights that are heavy, take up a lot of space, and use a lot of wasted steel and cardboard.
Lithonia® SIX is 10lbs lighter than its bulky counterpart, making installation a breeze.
Lithonia® SIX fits 3 times more units on a narrower pallet, which not only relieves shipping costs, but is much more manageable around the job site.
Lithonia® SIX uses 60% less cardboard and 70% less material for less waste and a lower carbon impact.
And we are proudly producing Lithonia® SIX in North America to help circumvent a tangled supply chain.