DO YOU HAVE EVERYTHING YOU NEED?
Answer 4 questions to tell us what you think about the information and materials for this product.
Tell Us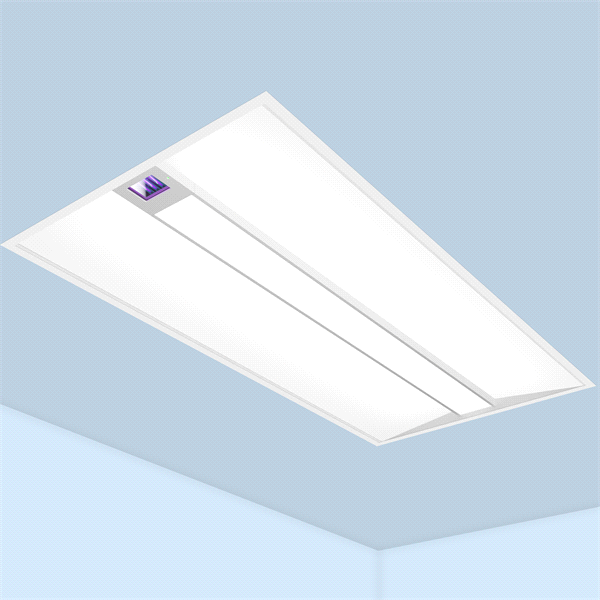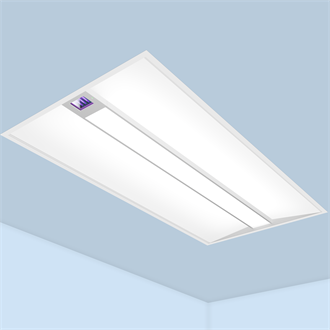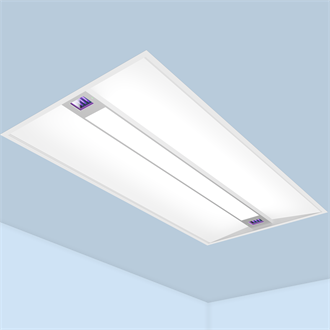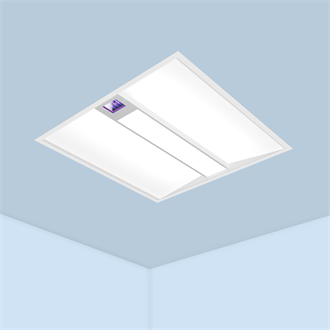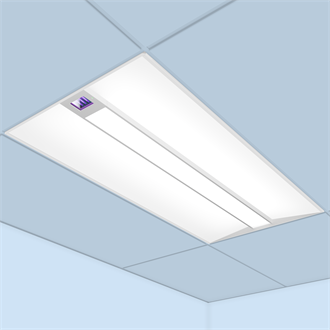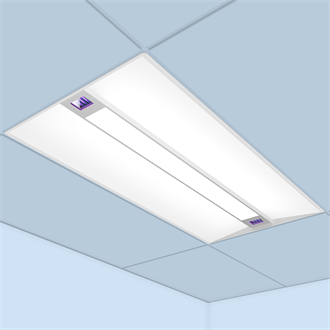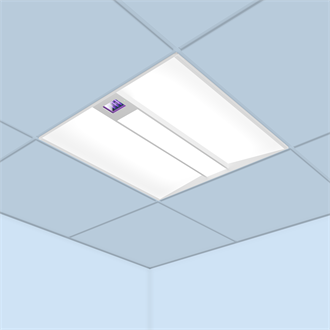 WHSPR Troffer with Care222® Technology
WHSPR Architectural Troffer with Care222® Technology
By Mark Architectural Lighting

WHSPR with Care222® technology reduces active pathogens* in the air and on surfaces using Ushio Care222® far-UVC disinfection** technology. WHSPR features a mercury-free far-UVC excimer lamp that contains a patented short pass filter for narrow band 222nm emission. This removes wavelengths that penetrate the living tissue in skin or deeper than the top layer of the cornea.

Gently sloping side panels provide Whisper with depth and appealing angles. Whether applied in rows or individually, Whisper brightens grid ceilings in offices, schools and hospitals and other institutional settings with an artful, and simple look. Whisper with Care222 delivers up to 8500 lumens at a color quality of up to 90CRI. Select from 2X2 or 2X4 sizes to best fit your design vision.

* * Refer to product specification sheets at marklighting.com/Whisper for efficacy claims and claim substantiation regarding specific products and pathogens.
** All references to "disinfection" are referring generally to bioburden reduction and are not intended to refer to any specific definition of the term as may be used for other purposes by the U.S. Food and Drug Administration or the U.S. Environmental Protection Agency. Bioburden reduction is a function of fixture run time and the distance to the UV light source, airflow, room size, shadow areas and/or other factors, and the level of reduction will vary within a specific space. This fixture is not intended for use in the cure, mitigation or prevention of disease and is not certified or approved for use as a medical device by the FDA. It is the obligation of the end-user to consult with appropriately qualified Professional Engineer(s), a Certified Infection Control professional and a Certified Industrial Hygienist, as applicable, to determine whether this fixture meets the applicable requirements for system performance, code compliance, safety (including safety and hazard alerting signs), suitability and effectiveness for use in a particular application design.

Read More
Read Less
| | |
| --- | --- |
| Size | 2x2, 2x4 |
| Light Source | LED - Static, UV |
| Lumens | 2000 LM, 3000 LM, 3300 LM, 4000 LM, 4800 LM, 6000 LM, 7200 LM, 8500 LM |
| CCT / LED Color | 3000 K, 3500 K, 4000 K, 5000 K |
| CRI | 80, 90 |
| Product Type | Troffer |
| Compliance Listing | Declare |
| Environmental Listing | Damp Location |
| Regulatory Listing | UL |
| Dimming Protocol | 0-10V |
| Mounting Type | Recessed |
| Fixture Wattage | 17.6, 25.4, 29.8, 33.8, 37.4, 41.2, 45.4, 53, 65, 78 |
| Voltage Rating | 120, 120-277, 277 |
| Series | WHSPR |
Read More Read Less
Suggested Replacement Products
PRODUCT INFORMATION
Spec Sheets

| Document Type | Document Title | Description | Updated | View | | |
| --- | --- | --- | --- | --- | --- | --- |
| SPEC SHEET | WHSPR CARE222.pdf | Whisper with Care 222® | 7/28/2023 | View | | |

---

Photometry & Revit (BIM)

Use %(percent) to separate search terms.

Description
Report
Design Tools

{{photometryItem.Catalog}}
Report

Spectral Data Sheets

Guideline Specifications

Revit Component Files (Non-Illuminated)

Technical Documents (e.g. Instruction Sheets, MSDS, CAD)

| Document Type | Document Title | Description | Updated | View | | |
| --- | --- | --- | --- | --- | --- | --- |
| Installation Instructions | INSTALLATION INSTRUCTIONS WHISPER CARE 222.pdf | WHSPR with Care 222 | 8/7/2023 | View | | |

Utility Rebate Search

Replacement Parts

| Document Type | Document Title | Description | Updated | View | | |
| --- | --- | --- | --- | --- | --- | --- |
| Replacement Part Installation Instructions | REPLACEMENT INSTRUCTIONS WHISPER CARE 222.pdf | Whisper with Care 222 | 8/7/2023 | View | | |

Confidential Documents

Marketing Material (e.g. Brochures, Sell Sheets, FAQs, )

| Document Type | Document Title | Description | Updated | View | | |
| --- | --- | --- | --- | --- | --- | --- |
| Brochures | Whisper with Care222 Technology Brochure | Informational brochure featuring Whisper with Care222 Technology by MARK Architectural Lighting | 9/19/2022 | View | | |

Need Product Assistance? (e.g. How to Buy, Technical Support, Warranty)

How to Buy

Acuity Brands lighting and controls products are primarily sold through a network of agents and distributors across North America,
as well as at more than 100 showroom or international locations and several online retailers.

---

Technical Support

Acuity Brands is dedicated to providing outstanding technical support. Please click on the appropriate link below, or feel free to
call us at 1.800.705.SERV (7378).

• FAQs

• Contact Us (Lighting Fixtures)

• Contact Us (Controls Services & Support)

---

Warranty
Is the new stocked product detail helpful? Please tell us what you think, CLICK HERE.

SKU data not available, please contact your local agent.

{{getMinimumDisplayedIndex()}} - {{getMaximumDisplayedIndex()}} of {{filteredStockedProducts.length}} results

(No Products Found)

{{result.Title}}

{{result.Title}}

{{result.Description}}

Quantity

{{(result.Quantity > 0) ? result.Quantity : 0}} in {{result.Location.substring(result.Location.indexOf("(")+1, result.Location.indexOf(")"))}}

Total at all DCs:

{{result.EnterpriseAvailability}}

Distr. Price

${{result.Price | number : 2}}

Distr. Price

Contact Acuity

Distr. Price

No pricing established

No Locations Could Be Found.

This catalog # is not available at any location at this time. Inventory is replenished daily, please check back or contact your local sales representative or agency further details.

Your session has expired. Click on the login link to view stocked product information.

Login/Register

Product information is not available at this time. Please try again later.

Available
Est. Ship Date
Location
In Transit
{{loc.QUANTITY > 0 ? loc.QUANTITY : 0}}
{{loc.ESTIMATED_SHIP_DATE}}
{{loc.LOCATION}}
{{loc.IN_TRANSIT_QUANTITY}}

Restocking date is unavailable at this time.
Location Est. Restocking Qty & Date
{{transitDetail.QUANTITY > 0 ? transitDetail.QUANTITY : 0}}

{{transitDetail.ARRIVAL_DATE ? transitDetail.ARRIVAL_DATE : "Date Not Provided"}}

Available

{{loc.QUANTITY > 0 ? loc.QUANTITY : 0}}

Est. Ship Date

{{loc.ESTIMATED_SHIP_DATE}}

Location

{{loc.LOCATION}}

In Transit

{{loc.IN_TRANSIT_QUANTITY}}

Restocking date is unavailable at this time.

Location Est. Restocking Qty & Date

{{transitDetail.QUANTITY > 0 ? transitDetail.QUANTITY : 0}}

{{transitDetail.ARRIVAL_DATE ? transitDetail.ARRIVAL_DATE : "Date Not Provided"}}

View All

View Less

Build Cat. # / Submittal Spec Sheet
Start Configurating a Product
Other People Have Also Viewed