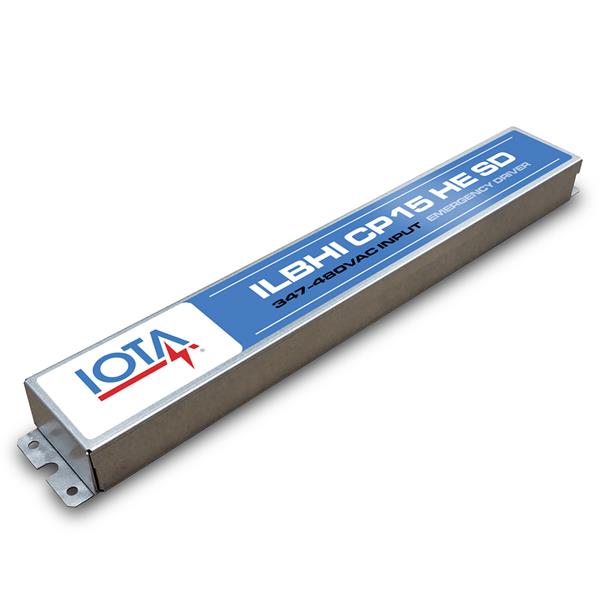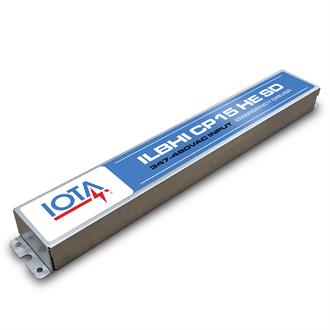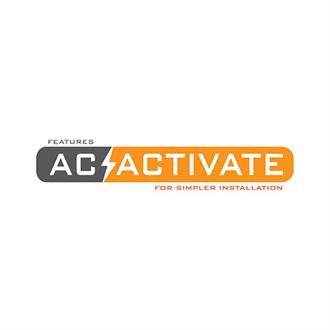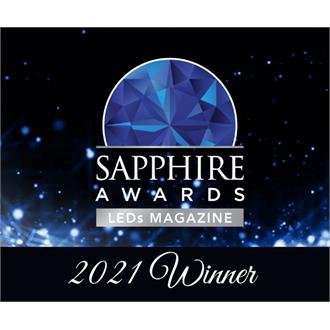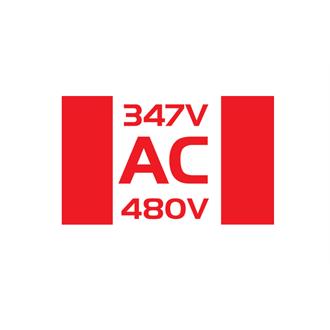 ILBHI CP15 HE SD Emergency LED Driver
15 Watt Emergency LED Driver for 347-480 VAC Luminaires with Class 2 LED Loads, CA title 20
By IOTA

The IOTA
ILBHI CP15 HE SD
is a UL Listed emergency LED driver for field and factory installation that allows a
347-480VAC
fixture with
20-55VDC Class 2 LED lighting loads
to be used for both normal and emergency operation. In the event of a power failure, the ILBHI CP15 HE SD switches from the existing AC driver to operate the fixture from the battery supply for 90 minutes. The unit contains a battery, charger, and converter circuit in a single enclosure with the options for integral no flexible conduit) or single and dual flexible conduit for wiring to the fixture and test accessories. The patented Constant Power design of the unit maintains the rated output wattage to the LED array even as the battery voltage diminishes, resulting in a constant illumination level for the entire emergency runtime. Features lithium battery technology for
significantly decreased form factor
and includes automatic monthly and annual
self-testing
features as standard. Self-diagnostic status is communicated via the illuminated single-piece test accessory, which can be mounted up to 25 ft. from the unit.
---
LED Operation
15 watts Constant Power
20-55 VDC Nominal Output
Product Advantages
347 to 480V Input Accommodates fixtures using a high-voltage AC input from 347-480VAC, 50/60 Hz
Auto-Sensing Class 2 Output Auto-adjusting 20-55 VDC output range accommodates a wide range of Class 2 forward voltage designs
Constant Power Performance
Constant wattage delivery maintains illumination level for the full emergency runtime with no degradation
Self-Diagnostic / Self-Testing
Monthly and annual self-testing feature satisfies the periodic testing requirements in accordance with NFPA 101 while the on-board diagnostics provides system readiness with visual indicators.
Features
UL 924 Listed for U.S. and Canada
Integral and flexible conduit models for wiring to the fixture
AC-Activate circuity simplifies wiring by eliminating the need for manual battery connection during installation
Maintenance-free, high-temp recyclable LiFePO4 for significantly reduced space requirements
Durable, galvanized steel enclosure
Single-piece test switch and charge indicator can be remote-mounted up to 25 ft.
For use with switched or unswitched fixtures
5-Year Warranty
Meets or exceeds all NEC, IBC, and Life Safety Code Emergency Lighting Requirements
Certified to CA Title 20 and registered in the Modernized Appliance Efficiency Database (MAEDBS)
Suitable for use in Plenum, Damp Location, Recessed Type IC, and Enclosed and Gasketed Luminaires
RoHS Compliant
Read More
Read Less

View Product Availability
| | |
| --- | --- |
| Product Type | Emergency LED Driver |
| Voltage Rating | 347-480 |
| Frequency | 50/60HZ |
| Load Voltage Rating | 20-55 VDC |
| Output Power | 15 Watts |
| Max. Operating Temp. | 55 |
| Min. Operating Temp. | 0 |
| Battery Run Time | 90 min |
| Battery Chemistry Type | Lithium Iron Phosphate |
| Battery Recharge Time | 24 hours |
| Battery Activation | AC Activate |
| Life Safety Testing | Self Diagnostics, Self Test |
| Regulatory Listing | C-UL-US |
| Compliance Listing | CA Title 20, ROHS |
| Series | ILBHI |
Read More Read Less
Suggested Replacement Products
PRODUCT INFORMATION
Spec Sheets

| Document Type | Document Title | Description | Updated | View | | |
| --- | --- | --- | --- | --- | --- | --- |
| SPEC SHEET | Copy and Paste Specification | Easily specify the ILBHI CP15 HE SD using this copy-and-paste document | 6/2/2021 | View | | |
| SPEC SHEET | ILBHI CP15 HE SD Specification Sheet | Spec Sheet for ILBHI CP15 HE SD 347-480VAC Emergency Driver | 5/17/2023 | View | | |

Photometry & Revit (BIM)

Spectral Data Sheets

Guideline Specifications

Revit Component Files (Non-Illuminated)

Technical Documents (e.g. Instruction Sheets, MSDS, CAD)

| Document Type | Document Title | Description | Updated | View | | |
| --- | --- | --- | --- | --- | --- | --- |
| Installation Instructions | ILBHI CP HE SD "A" Installation Manual | Installation Manual for ILBHI CP HE SD "A" (dual flex) emergency driver | 6/10/2022 | View | | |
| Installation Instructions | ILBHI CP HE SD "B" Installation Manual | Installation Manual for ILBHI CP HE SD "B" (no flex) emergency driver | 6/10/2022 | View | | |
| Installation Instructions | ILBHI CP HE SD "S" Installation Manual | Installation manual for ILBHI CP HE SD "S" (single flex) emergency driver | 6/10/2022 | View | | |
| Material Safety Data Sheet | MSDS - 16V LiFePO Batteries | Material Data Safety Sheet for 16V LiFePO Batteries | 6/10/2021 | View | | |
| Technical Bulletins | Comprensión de la Potencia Constante | Maximiza la seguridad en las salidas de emergencia utilizando potencia constante real (CP) | 4/12/2021 | View | | |
| Technical Bulletins | TC Point Reference | Identifies unit's TC point for thermal testing | 6/2/2021 | View | | |
| Technical Bulletins | The Need for Surge Protection | IOTA emergency drivers feature enhanced designs for withstanding exposure to electrical surges. | 4/5/2021 | View | | |
| Technical Bulletins | Understanding Constant Power | Understand the benefits of IOTA's patented Constant Power emergency LED driver design | 2/11/2022 | View | | |
| Wiring Diagram | (English) Typical Installation | PDF Format - Typical installation of ILBHI emergency drivers | 6/3/2021 | View | | |
| Wiring Diagram | (English) Typical Installation | DWG Format - Typical installation of ILBHI emergency drivers | 6/3/2021 | View | | |
| Wiring Diagram | (French) Installation Typique | PDF Format - Installation typique pour les modèles ILBHI | 6/3/2021 | View | | |
| Wiring Diagram | (French) Installation Typique | DWG Format - Installation typique pour les modèles ILBHI | 6/10/2022 | View | | |

Utility Rebate Search

Replacement Parts

Confidential Documents

Marketing Material (e.g. Brochures, Sell Sheets, FAQs, )

| Document Type | Document Title | Description | Updated | View | | |
| --- | --- | --- | --- | --- | --- | --- |
| Application Guide | Contractor Insider - Emergency Lumen Output | A quick guide on understanding how wattage correlates with emergency lumen output | 9/15/2021 | View | | |
| Application Guide | Contractor Insider - Remote Mounting Guidelines | A Quick Reference for knowing remote mounting capabilities of emergency lighting solutions. | 10/21/2021 | View | | |
| Application Guide | Emergency Lighting Solutions for 347-480 VAC | Know all of your options for providing emergency lighting to applications using 347-480VAC power. | 1/13/2022 | View | | |
| Application Guide | ILB CP Lumen Reference Chart | Quickly identify IOTA LED Emergency Drivers that meet your desired lumen levels | 8/11/2023 | View | | |
| Application Guide | Tabla de Referencia de Lumen de ILB CP | Identifique rápidamente los drivers LED de emergencia de IOTA que cumplen con los niveles de lumen deseados | 4/12/2021 | View | | |
| Brochures | IOTA HE Products for California Title 20 | IOTA Emergency Lighting Solutions Certified in the Title 20 Appliance Efficiency Database | 7/21/2022 | View | | |
| Brochures | IOTA ILBHI Flipbook | An at-a-glance overview of the IOTA ILBHI Series products and application | 11/8/2021 | View | | |
| Brochures | IOTA Tech Brief: What is AC Activate | Understand the key benefits that AC Activate technology brings to the installation process. | 2/11/2022 | View | | |
| Sell Sheet | IOTA-Contractor-Insider_AC-Activate-Explained.pdf | How IOTA AC Activate Saves Time and Money on the Jobsite | 11/5/2021 | View | | |
| Sell Sheet | Product Spotlight - ILBHI Series | Quick reference that highlights the benefits and features of the ILBHI Series | 11/4/2021 | View | | |
| Sell Sheet | Sell Sheet - ILBHI Series | Quick overview of IOTA ILBHI Series products and benefits. | 6/17/2021 | View | | |
| Sell Sheet | Sell Sheet_IOTA AC Activate.pdf | AC Activate is a smarter, simpler way to install emergency drivers. | 7/21/2023 | View | | |

Need Product Assistance? (e.g. How to Buy, Technical Support, Warranty)

How to Buy

The IOTA products are primarily sold through a network of agents and distributors across North America.

• Find an Agent or Distributor

---

Technical Support

The IOTA technical team is dedicated to providing outstanding product support. Please click on the appropriate link below,
or feel free to call us at 855.363.9527.

• FAQs

• Email Us

---

Warranty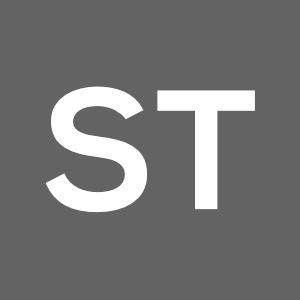 View Stocked Products
Is the new stocked product detail helpful? Please tell us what you think, CLICK HERE.

SKU data not available, please contact your local agent.

{{getMinimumDisplayedIndex()}} - {{getMaximumDisplayedIndex()}} of {{filteredStockedProducts.length}} results

(No Products Found)

{{result.Title}}

{{result.Title}}

{{result.Description}}

Quantity

{{(result.Quantity > 0) ? result.Quantity : 0}} in {{result.Location.substring(result.Location.indexOf("(")+1, result.Location.indexOf(")"))}}

Total at all DCs:

{{result.EnterpriseAvailability}}

Distr. Price

${{result.Price | number : 2}}

Distr. Price

Contact Acuity

Distr. Price

No pricing established

No Locations Could Be Found.

This catalog # is not available at any location at this time. Inventory is replenished daily, please check back or contact your local sales representative or agency further details.

Your session has expired. Click on the login link to view stocked product information.

Login/Register

Product information is not available at this time. Please try again later.

Available
Est. Ship Date
Location
In Transit
{{loc.QUANTITY > 0 ? loc.QUANTITY : 0}}
{{loc.ESTIMATED_SHIP_DATE}}
{{loc.LOCATION}}
{{loc.IN_TRANSIT_QUANTITY}}

Restocking date is unavailable at this time.
Location Est. Restocking Qty & Date
{{transitDetail.QUANTITY > 0 ? transitDetail.QUANTITY : 0}}

{{transitDetail.ARRIVAL_DATE ? transitDetail.ARRIVAL_DATE : "Date Not Provided"}}

Available

{{loc.QUANTITY > 0 ? loc.QUANTITY : 0}}

Est. Ship Date

{{loc.ESTIMATED_SHIP_DATE}}

Location

{{loc.LOCATION}}

In Transit

{{loc.IN_TRANSIT_QUANTITY}}

Restocking date is unavailable at this time.

Location Est. Restocking Qty & Date

{{transitDetail.QUANTITY > 0 ? transitDetail.QUANTITY : 0}}

{{transitDetail.ARRIVAL_DATE ? transitDetail.ARRIVAL_DATE : "Date Not Provided"}}

View All

View Less
Other People Have Also Viewed